The origin of the WOLFF family comes from Bischwiller in Alsace, Eastern France.
The aging horse labors on, yet the cart it has been pulling year after year between Bischwiller, Haguenau, Soutz or Brurnath is less laden. Annexed by Germany, Alsace is in a crisis and sales of this highly prized black cloth are rare. Alsatians must wear out their clothing, for the 1870s are a difficult period.
The German annexation of Alsace shatters many labour laws for Joseph WOLFF.
Joseph, a peddler of woolen cloth, does not attempt to negociate the purchase of a new animal from his horse dealer friends. Instead, in 1872, he takes the train for the very first time to meet his former suppliers, BLIN ET BLIN and FRAENCKEL ET BLIN in Elbeuf.
These manufacturers have known Joseph and his family for a long time, and readily agree to open a line of credit for him in their black cloth ledgers. The relation between woolen cloth makers, peddlers, shopkeepers and tailors are such that a person's word is worth more than their signature and long remain so.
To find work, Joseph and his family emigrate to Elbeuf in Normandy, Inner France.
A map of France without Alsace-Lorraine (sometime between 1871 and 1914).
Joseph and his family settle in Elbeuf, known as the city of thousand chimneys.
Among other fabrics, Elbeuf produces a beautiful heavy cloth; a casimir that is wonderfully textured and soft, in a deep black shade that is even more lovely than the one made in Bischwiller. In fact, the waters in Elbeuf are better for dyeing and finishing than the waters that flow in Alsace.
The city of Elbeuf is famous for its wool cloth production since the Middle Age, thanks to its wet climate and the river Seine that passes through the city on its way to Honfleur.
1875
The three brothers, Joseph, Albert and Benjamin create their first company "WOLFF & Cie".
Joseph, who speaks only Alsatian and dresses in black cloth, finds selling to french speakers difficult. Normandy has Brittany as a neighbor, and there the language is not always French. So, Joseph tries his luck in Brittany. The Bretons love this heavy black fabric, and warmly welcome this Alsatian-speaking Norman from Elbeuf; finding him easier to understand, perhaps, than the French from Touraine. Joseph does eventually learn to speak Breton.
Albert, who is twenty years younger than his brother Joseph, creates a company in 1875: "WOLFF & Cie" that becomes "BENJAMIN WOLFF & Cie" in 1926, after Benjamin, Albert's younger brother.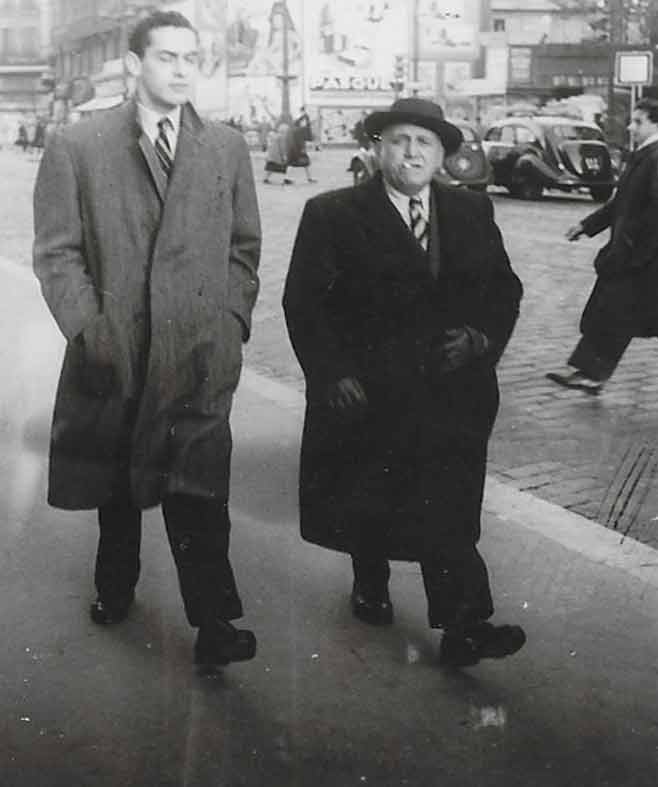 Patrick, the youngest son of Pierre WOLFF with Georges DESCOURTIS.
1945
Benjamin's son, Pierre takes Georges DESCOURTIS as a partner, the company becomes WOLFF & DESCOURTIS.
The period from 1875 to 1940 is difficult to write about.
A great war divides families: cousins, sometimes even brothers find themselves in different armies. The great crisis of the 1930s leaves its mark. WOLFF & Cie, however, is growing, and travelers who most often go by the name WOLFF visit all the Mediterranean countries and regions. France no longer dresses in black cloth; fabrics are diversifying. In the 1930s and even later, the thread count, textures, dyeing and finishes from Elbeuf are very much sought after throughout the world
In 1945, "BENJAMIN WOLFF" becomes "WOLFF & DESCOURTIS". Georges DESCOURTIS is a friend of Pierre WOLFF, the son of Benjamin (who died in 1940). Yet, whether under one name or another, the company's business remains trading in fabrics, and the company experiences nothing but harmony and prosperity.
Simone and Pierre WOLFF settle down in Paris.
It is the 1950's and the world is changing, tailors are giving way to dressmakers, customer demand is evolving, the weavers, dyers and cloth finishers in Elbeuf are closing, and cloth traders no longer have a purpose. It is the end of an era, and for WOLFF & DESCOURTIS it is essential that it redefine itself.
Simone WOLFF, Pierre's wife, understands this. Elbeuf is living its last years as a textile town.She insists: WOLFF & DESCOURTIS must settle in PARIS, the undisputed center of fashion, of design of new materials and, moreover, where life is pleasant.
1956
Settling in the new commercial premises located in the Vivienne quarter devoted to fabrics for garments.
6, rue Vivienne Paris 2ème arrondissement.
1959
This advertisement is signed by Pierre PAGÈS, one of the famous fashion illustrators of the time and published in the men's fashion magazine ADAM la revue de l'homme.
1960's
The two brothers, Patrick and Jacques WOLFF
After Georges DESCOURTIS and Pierre WOLFF die, Jacques and Patrick, Pierre's sons, continue the business, now focusing on even more beautiful fabrics.
1963
Advertising
A folded poster introducing the new season collection, sent to the clients and usually followed by the visit of the WOLFF & DESCOURTIS salesman.
1976
A double page published in. the fashion magazine L'OFFICIEL de la Couture et de la Mode de Paris
SAINT LAURENT rive gauche chooses a WOLFF & DESCOURTIS fine wool cloth for its 1976 winter collection
1988
Providing cloth for the Prêt-à-Porter industry.
A double page published in the fashion magazine L'OFFICIEL de la Couture et de la Mode de Paris, "SAINT LAURENT rive gauche" chooses a WOLFF & DESCOURTIS fine wool cloth for the 1976 winter collection.
1990's
Bringing a Parisian touch of feminity.
Paris is bursting with creativity, and the French ready-to-wear and Haute Couture are unparalleled. Artisans excel there. It is in this context that the printers from Como and the velvet weavers from Lyon become suppliers to WOLFF & DESCOURTIS.
.
2005
Embracing the shawl as a new concept.
Victoria WOLFF takes the helm of WOLFF & DESCOURTIS.
2005
An undisputed appraisal of high quality.
WOLFF & DESCOURTIS starts a long run collaboration with the newly renovated palace, supplying shawls and wraps for the GEORGE V boutique, nestled in the FOUR SEASONS HOTEL GEORGES V, Paris.
.
2010's until now
Such a good team
How can such technical perfection achieve such creativity? It is simply the savoir faire of a family, which for generations has harnessed all the qualities that make our country and PARIS the world capital of fashion, but which, above all, has remained firmly attached to its family values.
.